COVID-19
We have made the very difficult decision to require that all wedding guests be fully vaccinated. This decision is in response to the rapid influx of information regarding new variants and the continued uncertainty around COVID-19 in general.

We sincerely apologize for any inconvenience this decision may cause and want to be clear that we respect that choosing whether to be vaccinated is a personal decision. We simply believe that this is the best way to ensure the health and safety of our family and friends.

If you have already mailed in your response card and need to make a change, or if you have any questions, please feel free to send an email to: LindseyandJordan2020@gmail.com

We are still closely monitoring the situation with Marriott and will update this page as necessary.
Venue
Cleveland Marriott Downtown at Key Tower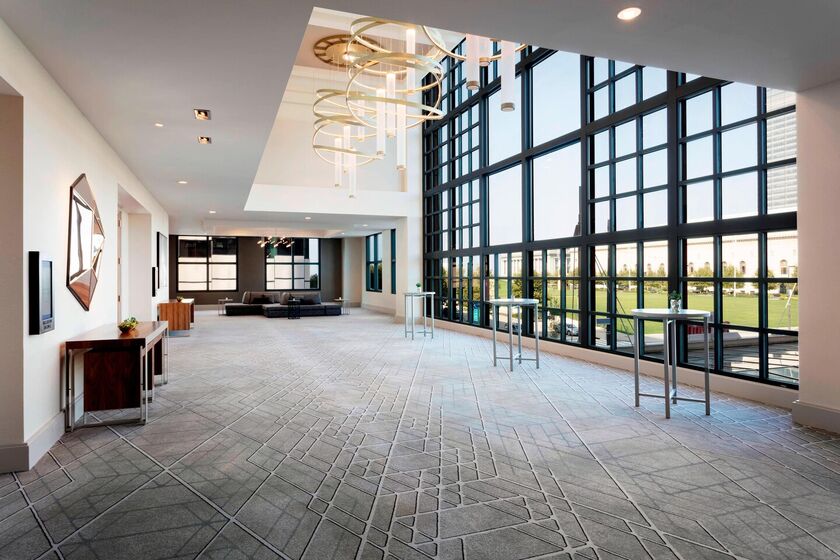 The hotel entrance is at 1360 W. Mall Drive, Cleveland, OH 44114.
Ceremony will start promptly at 5:30PM in the Grand Ballroom on the second floor. Cocktail hour will immediately follow, and then the reception.
Guests are asked to wear formal attire. We recommend a suit and tie for men, and a cocktail dress, long dress, or a dressy pant suit for women.
Parking
Complimentary valet parking will be provided for the wedding. Pull up to the hotel entrance at 1360 W. Mall Drive and mention the Smith-Freireich wedding. There is a photo of the hotel entrance below.
If you prefer, you may self-park at the Memorial Plaza Garage (connected to the hotel), but this is not complimentary. The garage entrance is at 501 St Clair Avenue NE. There is a photo of the self-park entrance below.
There is a discounted self-park rate until 11AM on Monday: $10 for the first 24 hours, and $5 per 12 hours thereafter.
Full parking rate summary: https://modules.marriott.com/hotel-info/clesc-cleveland-marriott-downtown-at-key-tower/parking/140597/home-page.

Hotel entrance & valet drop-off


Wedding Party
Best Man: Adam Freireich

Matron of Honor: Emily Lang
Groomsmen: Matthew Unger, Andrew Bloom, Andrew Smith, Bradley Smith

Bridesmaids: Shaina Malkin, Jennifer Keim, Lindsey Slivka, Megan LaForgia
Ring Bearer: Trent Dolak
Flower Girls: Alice Kneen, Lacey Atkins